Test Laboratory
Tests according to UN 38.3 and IEC 62133-2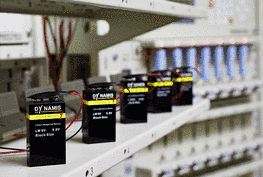 Our test laboratory located in Dettingen/Konstanz, Germany, provides numerous test services for customers, including testing in accordance with international standards for cells and batteries.
We offer a large variety of tests, electrical tests e.g.:
- Transport safety tests according to UN 38.3 requirements.
- Safety requirement for use in application acc. IEC 62133-2
- Long term / short term cycling performance for systems
up to 80V (50A) or 5V (1mA - 500A), climate control possible.
- Various charging and discharging tests.
- Simulations, project- / special application-defined testing
for cells and batteries of all technologies.
- Combinations of mechanical / environmental and electrical
tests upon request.
The service is open to all customers and not limited to customers procuring battery systems solely from DYNAMIS only.
Test lab flyer 262KB