Battery Management Systems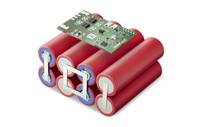 BMS Battery Management Systems - Entire New Developments.
The increasing use of rechargeable Lithium Accumulators demands the introduction of protective devices (Protective Circuit Modules or BMS, resp.). They control the battery functions according to the cell specifications and ensure the safe operation also under unusual conditions. In order to achieve this, specific electronic components are used and - depending on the customer demand - further control and monitor functions can be added. This may vary from supervising detail functions to communications with outside equipment and interactive control mechanisms.
On the basis of our extended experience with a wide variety of technologies and appropriate battery solutions DYNAMIS Batterien GmbH develops software as well as the hardware of such BM systems. DYNAMIS in addition provides manufacturing of these BMS or supplies the complete product.


The UBMS 1-4S now with new features
The LED-SOC-Interface of our universal battery management system UBMS 1-4S,
is now available on demand equipped with the miniature Molex Pico EZmate
connector.
This step thins the battery by up to 4 mm making it possible to easily integrate
the customers' LED-Module or DYNAMIS' LED-Module into the application.
It is also possible to have error codes output via the LED-SOC Cut surface.


Foto: DYNAMIS UBMS 1-4S. More ...